Archive for the 'Scott Pilgrim Vs. The World' Category
Scott Pilgrim Vs. The World – viewed 8/15/10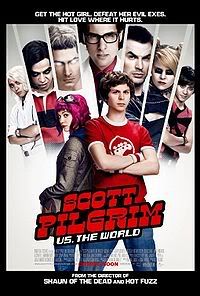 Roger Ebert recently came out with a series of essays slamming video games, and disagreeing with the fact that they should be considered as art. He then went on to reference a series of shitty video games put out by Clive Barker in which he slammed the simplicity of them.  I consider Roger Ebert to be a genius, andto be at the forefront of critical film review over the past 30 odd years.  I also consider him to be dead wrong on this subject.  I also wonder what he has to say about Scott Pilgrim Vs. The World, a film  who's roots are firmly planted, and flourish from the world of video games and comic books over the past 30 odd years as well.
At first glance Scott Pilgrim Vs. The World is a hipsters wet dream referencing a plethora of video games from Pac-Man to Donkey Kong to Final Fantasy and Mike Tyson's Punchout. I was expecting an entertaining, nostalgic, throwback of film that would appeal to the video game nerd within me.  What I was not expecting is a film with some of the sharpest dialogue of the year, and in all honestly the best editing I have seen in a film since Michel Gondry's Eternal Sunshine of the Spotless Mind.Scenes bleed into cuts which morph into complete other scenes, and you never want to wander from the screen because of this.  If the film doesn't get nominated for best editing it will just once again prove that the Academy does not truly have its finger on the pulse of groundbreaking films.


Michael Cera plays Scott Pilgrim, a ringer tee wearing geek, who is dating an Asian high school girl, (even though he's 22) in an attempt to get over his ex who left him to form an alternative/punk band that hit the big time.  However he soon falls in love with Ramona, the ultimate hipster chyk, with neon pink hair, and a personality that oozes mystery.  He does everything in his power to secure a date with Ramona.  She soon begins to fall for him, but lets him know that he will have to defeat her seven evil ex's if he truly wants to be with her.  Cera is acting right within his wheel-house, in a film that I think no one else could have taken over.  He's shy, yet witty and outgoing at times, and the film is really about him gaining confidence in himself.
Pilgrim fighting all of the evil ex's is the real fun of the movie as Kill Bill-esque fight scenes unfold one after the other.  It's very hard to create a comedic film, with serious bits of action and adventure.  I really haven't seen anything like it, and that's why I think Pilgrim is one of the best films of the year, and I have no problem labeling it as technically groundbreaking.
The soundtrack, of 8 bit blips and lo-fi soundbites, is provided by Nigel Godrich of Radiohead fame, and is expertly placed as one of the true stars of the film.  If you've played video games your whole life like me, you'll be pleasantly surprised with some very familiar effects throughout the film.  The soundtrack also includes great tracks from acts such as Beck and Broken Social Scene, also paying an integral part in the development of Pilgrim.
Pilgrim borrows from such films as Hackers, Kill Bill, Eternal Sunshine of the Spotless Mind, and Sin City along with Street Fighter II and Legend of Zelda.  I was more than pleasantly surprised with how well the film borrowed (not copied) from these films, along with it's comic book and video game roots shining through.  It will surely become an instant cult classic and the relevance of the film in years to comes should not be understated. It is the type of film that stays with you, and even as I write this I think of so many little things that I loved about it coming back to me.   It's a perfect pop culture merger, even referencing Sienfield at times. (one of my favorite scenes in the film)  It's hilarious, it's action-packed and it's expertly made as well. While some average american males between the ages of 20-40 will surely appreciate the film more than others, there is still plenty to go around for everyone.


Grade: A