Archive for the 'Other Guys; The' Category
The Other Guys – viewed 8/6/10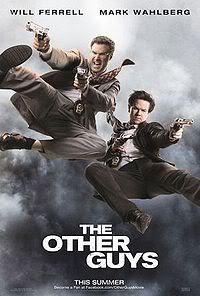 The buddy-cop film has been done to death, sometimes in excellent fashion (Lethal Weapon, The Hard Way, 48 Hours, The Rookie) sometimes in lethal fashion (Cop-Out, Showtime, Metro) So where does  The Other Guys fit in?  Well it's right up there with some of the best of them.
The Other Guys stars Mark Whalberg and Will Ferrell (Terry Hoitz, and Allen Gamble as two dysfunctional detectives who have been partnered up with each other.  Ferrell is a desk cop who has no desire to be out in the field, and beautiful women seem to be strangely attracted to him wherever he goes.  Whalberg on the other hand, is a hot-headed detective who no one wants to deal with after he accidentally shot a famous, VERY famous New Yorker. (I won't spoil it for you).
Whalberg is desperate to tackle the streets again and cement himself as one of NY's finest detectives, but both he and Ferrell are in the shadow of NY's crime fighting, egotistical, over the top,  bad boys Highsmith and Danson (Samuel L. Jackson, and Dwayne "The Rock" Johnson).  Their captain (Michael Keaton) has to constrain their egos while constantly quoting TLC lyrics for some reason.
The film is helmed by Adam McKay (Step Brothers, Talladega Nights, Anchorman). McKay has proven he is able to capture the essence of Will Ferrell and throw it at you on the screen from every direction, and he continues his hot streak here.
The Other Guys works on a lot of levels.  You get everything you'd expect from a traditional buddy-cop movie, you get some really great action sequences, and you get Will Ferrell being…well Will Ferrell.  He at times has the problem of being too over the top and straining for laughs from the audience.  None of that is a problem here.  Whalberg plays off of him nicely as this crazed detective who can't stand Ferrell's innocence, and drags him into tense situations.  It gives you some extremely hilarious moments.
The dialogue is fresh and there are jokes coming at you from every corner and radii of the film.  What I really appreciated from the film is that there is a lot of returning to jokes that you would think were just one-off's here and there.  I don't think comedy films do this enough, jumping back to really great jokes thrown at you earlier in the film.  The film runs a little bit long, which is the downfall of many comedy's and there is a little bit of strain to try and throw jokes at you constantly, but this doesn't deter from the overall enjoyment of the picture.
All in all you will not be disappointed with the film.  It's exactly what you would expect plus a little bit more.
Grade: B+