Archive for the 'Girl With the Dragon Tattoo; The – 2010' Category
The Girl with the Dragon Tattoo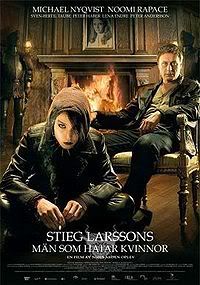 The book "The Girl with the Dragon Tattoo" by Stieg Larsson, has generated ridiculous buzz, along with his two other books "The Girl who Played with Fire", and "The Girl who Kicked the Hornet's Nest". The three books make up his millennium trilogy and were found as unpublished manuscripts following his death in 2004. To bad he won't be capitalizing on the huge success of the novels, and films. All three books have been made into foreign films, and the first book "The Girl with the Dragon Tattoo" is now being made into an english language version with director David Fincher tapped to direct. I'm sure the next two will soon be turned into americanized versions as well.
The film follows two main characters. One is Mikael Blomkvist, an investigative journalist who has just been sentenced to 3 months in jail for a libel case he lost. He is a free man as he waits to appeal his case, and he is soon hired by Henrik Vanger to help solve the disappearance and supposed death of his niece that happened 40 years prior. Vanger is a rich man, with a family that has a torrid past, and he trusts none of them, believing one of them is perhaps responsible for his niece's death. Blomkvist has nothing to lose, so he picks up the case.
The second character is Lisbeth Salander, a street-wise, tattoo'd, hard-nosed girl that you do not want to fuck with…seriously. She's a cyber-hacker who becomes intrigued by Blomkvist's high-profile scandal. She soon begins to hack into his computer when she comes across the case that he is working on. She soon becomes intrigued in the case and attempts to start cracking it herself. That's when their paths cross.
The film is extremely dark, and sadistic at times, and Salander's storyline is really hard to watch. She's a girl that has had a torrid past filled with pain, and suffering and Noomi Repace who plays Salander, plays it dead on. What's most interesting about the film is that you have these two characters that couldn't be more completely opposite, and they learn how to work together in order to solve this 40 year-old mystery. Along the way you learn that they have much more in common than you first thought. The play between them is fresh, and there's some pretty humorous moments between the two. There is lots of intrigue in attempting to solve the murder and suspense builds to a crescendo. There are some great, dark, haunting moments in the film, and the acting is top notch. The film rushes along a little bit near the end and it feels a bit hurried, but it doesn't really take away from the film as a whole I felt. It's one of the better films I've seen this year, and I think it's right up David Fincher's alley in remaking it. It'll be interesting to see what his take on the film, and book are. That is until IMDB changes the status has someone else directing it…always happens.
"The Girl with the Dragon Tattoo" is now available on DVD and Blu-Ray, and is also available on Netflix for instant streaming
Grade:B+