Archive for the '2011 Oscar Predictions' Category
2011 Oscar Nominations and Predictions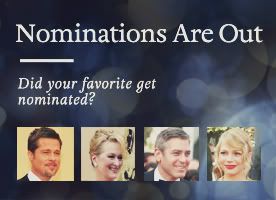 It's that glorious time of year folks when Uncle Oscar gives out his nominations for all the wonderful films and people in them…and not so wonderful.  Here is a run down of the nominees in the main categories, my picks, and my thoughts.  My picks are in 
bold.
Best Supporting Actor
Kenneth Branagh, My Week with Marilyn
Jonah Hill, Moneyball
Nick Nolte, Warrior
Christopher Plummer, Beginners
Max Von Sydow, Extremely Loud and Incredibly Close
Some interesting picks here, especially with Hill for Moneyball.  To me this is the most wide open of all the races.  I'm going to have to go with Max Von Sydow here who is deserving only in the fact that he has never won an Oscar, and has been an actor for about 100 years…and he really deserves to win because he's the voice of Esbern in Elder Scrolls: Skyrim.  I would not be shocked to see Nolte win though who gave probably his best performance ever in the little seen Warrior.
Best Supporting Actress
Berenice Bejo, The Artist
Jessica Chastain, The Help
Melissa McCarthy, Bridesmaids
Janet McTeer, Albert Nobbs
Octavia Spencer, The Help
This one is pretty much a slam dunk for Octavia Spencer for The Help.  She won the Golden Globe performance and this is going to follow.
Best Actress
Glenn Close, Albert Nobbs
Viola Davis, The Help
Rooney Mara, The Girl with the Dragon Tattoo
Meryl Streep, The Iron Lady
Michelle Williams, My Week with Marilyn
I would love to see Rooney Mara win here but it's not going to happen.  The Academy loves to pick people who play famous people and they probably just threw up their hands and said ehhh give it to Meryl Streep again.
Best Actor
Demian Bichir, A Better Life
George Clooney, The Descendants
Jean Dujardin, The Artist
Gary Oldman, Tinker Tailor Soldier Spy
Brad Pitt, Moneyball
This one is a little tricky.  Clooney won the Golden Globe for The Descendants which was one of my favorite films of the year, but I really believe that Pitt's performance is probably the best of his career.  He's so good and this is going to be my upset pick this year.
Best Director
Woody Allen, Midnight in Paris
Michel Hazanavicius, The Artist
Alexander Payne, The Descendants
Martin Scorsese, Hugo
Terrence Malick, The Tree of Life
This actually takes some thought here.  All of the directors are deserving.  I think Malick should win but I'm going to have to pick Alexander Payne because I believe that his film The Descendants will follow with a best picture win.
Best Adapted Screenplay
The Descendants, Alexander Payne, Nat Faxon and Jim Rash
Hugo, John Logan
The Ides of March, George Clooney, Grant Heslov and Beau Willimon
Moneyball, Steve Zaillian and Aaron Sorkin. Story by Stan Chervin.
Tinker Tailor Soldier Spy, Bridget O' Connor and Peter Straughan
I'd like to think Moneyball would win here but they're gonna give some love to Hugo for a great adaption.
Best Original Screenplay
The Artist, Michael Hazanavicius
Bridesmaids, Annie Mumolo and Kristen Wiig
Margin Call, J.C. Chandor
Midnight in Paris, Woody Allen
A Separation, Asghar Farhadi
To me this one is kind of a no-brainer.  Allen is going to miss out for Best Director, but his script is so whimsical and fun and he's going to win here.  I was surprised to see Margin Call up here which was also one of my favorite films of the year.
Best Animated Feature
A Cat in Paris
Chico & Rita
Kung Fu Panda 2
Puss in Boots
Rango
Talk about a terrible year in film for Animated Cinema.  Kung Fu Panda 2 is nominated?  Rango wins.
Best Picture
The Artist
The Descendants
Extremely Loud and Incredibly Close
The Help
Hugo
Midnight in Paris
Moneyball
The Tree of Life
War Horse
Yippee 10 films nominated once again…The Descendants should take this home but only because The Academy doesn't know shit about baseball.