Archive for the 'Ghost Writer; The' Category
The Ghost Writer – Viewed 4/3/2010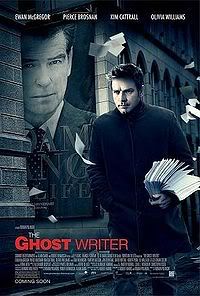 When Roman Polanski is on, he's one of the greatest directors alive, and even when things don't quite add up in his films, he's still entertaining as hell. "The Ghost Writer" seems to fall somewhere in between complete genius, and convoluted drivel.
Ewan McGregor plays a ghost writer, in some smart fun, whose name is never revealed. He is hired on to finish writing a political biography for Adam Lang, a Tony Blair-esque Prime Minister played by Pierce Brosnan. Lang's original ghost writer mysteriously died and was found washed up on the shores of an island town.
The original biography was nearly finished, but the work made no sense to the publishers. After sinking nearly a million pounds into the book, they need Ewan to make some sense of what was written. He is asked to meet Lang on the same island that his predecessor's body washed up on. Lang has a compound there which houses his staff, and the book under lock, key and hi-tech security system.
Ewan soon comes to learn that there is more to the book than he believed as he unravels the truth about Lang, and his associates. He soon begins to sink deeper and deeper into what his predecessor was truly doing, and becomes intent on finding out the truth surrounding all of the players at play.
The best part of the film was Ewan's character being stuck in this fortress as he is trying to unravel the mystery. He stays in the same room as the last ghost writer, and soon becomes affected by the belongings left behind, and the starkness of the compound. It takes hold of him and drastically starts to change him, much like in the film "The Shining", but the problem is Polanski never really pushes that idea to its desired intent. He only hints and plays around with the idea. I think if he would have gone full-throttle with this concept and embraced it, it would have made this just a fantastic film.
The film also begins to fall apart as it begins to drag on, and more and more character plot points are revealed. It begins to just confuse itself until it almost spirals out of control. Polanski luckily brings the film back together from the brink of disaster to give us a nice little ending.
'That being said, "The Ghost Writer" is an entertaining, political/suspense thriller, that is done much better than your average film of that genre. There are trademark Polanski images, and film-making at work, and if you're a fan of his, it surely won't disappoint you, but it will probably get you yearning for some of his earlier work.
Grade: B-