Archive for the 'Demonlover' Category
Film Comment – #49 – Demonlover – Oliver Assayas – 2002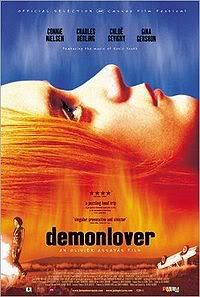 "Demonlover" is a hyper-sexual, sci-fi, tech thriller in which a French corporation deals with the purchase of Japanese animated porn for DVD's, and 3-D computer software. The film opens with sabotage aboard an international flight where Diane, played by smoking hot Connie Nielsen, injects some form of knock out serum into a co-workers Evian. As the flight lands the co-worker is kidnapped by two men and important files regarding the merger with a Japanese porn company are stolen. Diane is soon sent to take her place and finalize the merger in Japan.
Diane's motives are unclear at first. We do know that she is working with someone else, and her plan isn't as secret as she thinks it is. We soon realize that someone is after her as well. Chloe Sevigny plays Diane's new personal assistant who can't stand her, and Gina Gershon makes a great appearance as a US corporate consultant for a sex company who is looking to merge with the French corporation. Much of the film is hidden in this cloud of ambiguity which completely works for the film, building the tension as we try and figure out who wants what, and for what reasons., great corporate sexual espionage ensues.
The original version that was shown at Cannes is not available, which I hear is even more sexually explicit than the 117 min version that was released on DVD in the US. There have been rumors that a directors cut could be released sometime soon. The majority of the explicit scenes are pixelated out, which doesn't really take away from the sexually tense nature of the film. It plays a lot like David Cronenberg's "Crash" with the sexual tension, but has a more intense thrilling plot. The thriller aspect adds to the sexual tension of the film for a fantastic film. The film gets a little confusing near the end with a extremely dark plot twist, but I bought in to it.
Finding the film was a treat, and I'm surprised I never heard of it seeing as how I've seen three other Assayas films, "Clean", "Boarding Gate", and he also directed a portion of "Paris Je Taime", this being his best one yet.
Grade: B+