Archive for the 'When the Levees Broke' Category
Film Comment – #95 – When the Levees Broke – Spike Lee – 2006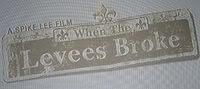 In the aftermath of the devastation of hurricane Katrina, Spike Lee compiled this four part series chronicling the events that led up to the disaster, the destruction itself, and the lack of support from the US government and FEMA that followed. He surprisingly for once keeps his bold voice out of the film, really trying to focus on the facts of what happened.
The biggest devastation, is the fact that we supposedly live in the greatest nation on the planet, yet we can't help our own people when they need it the most. We turn a blind eye to the people of this country in need, yet we'll be the first to fly troops off to a foreign country to dip our hands into their issues, and their rich resources as well. The Canadian Mounties responded quicker than the US government for god's sake.
The plain fact of the matter is that these people were left to fend for themselves, and help was not their fast enough, it was not there when they needed it, and people lost everything, including their lives because of it.
Spike Lee does this tremendous job of compiling, what I could only imagine is thousands of hours of footage, along with interviews with politicians, celebrities, and residents of New Orleans. One of my favorite things about the film was his use of New Orleans jazz music during the entire documentary. This is a city that is built on the foundations of great music, so it only makes sense to emphasize that in the documentary.
My only issue with "When the Levees Broke" being included on this list is that I don't really consider it a film. It really is a four part documentary that was produced by HBO, so it really is a mini-series and not a film. That being said it is really a fantastic production that sheds some light on one of the worst disasters the US has ever seen.
Grade: B+