Archive for the 'Spirited Away' Category
Film Comment #21 – Spirited Away – Hayao Miyazaki – 2001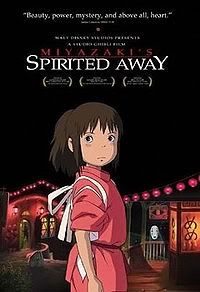 In 2001 "Spirited Away" earned the Oscar for best animated feature. It is also currently ranked the 6th highest animated film at Rottentomatoes.com, and is the highest grossing film in Japanese history. I picked it #8 in my 10 best of 2001, and #50 on my top films of the past decade list. It is a complete masterpiece, and the greatest animated film I have ever had the pleasure of seeing, and now seeing again.
We follow Chihiro as her and her parents move to another town. They come across a dormant festival park and soon fall into a magical world in which Chihiro's parents turn into pigs, and she must save them and escape back to the human realm. She soon runs into Haku a young boy who has lived in this land so long that he has forgotten his real name. He gets Chihiro a job and helps her to learn the ropes, Chihiro however just wants to free her parents and go home, but along the way she will help Haku remember the things he has long forgotten.
Chihiro is a stubborn childish little girl when the film begins, but she must quickly learn to grow up and take care of herself as she is thrust into this new land of vomiting stink monsters and greedy evil witches. "Spirited Away" is like many of the great fantasy stories throughout the history of the written world, most closely I found parallels to my favorite childhood story "Alice in Wonderland". It is a fantastic coming of age story.
There is something magical and very touching about the picture, and I highly recommend it for both children and adults alike.
Grade: A