Archive for the 'Young Adult' Category
Young Adult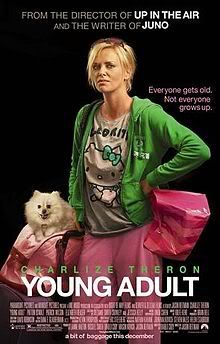 Director Jason Reitman's three previous efforts (
Thank You For Smoking, Juno, Up In the Air)
made my top 10 list each year of their respective years released.  He as an amazing young talent in Hollywood.  His new film 
Young Adult
may also be making one of my end of the year lists, but it definitely won't be my best of the year list.Writer and Oscar winner Diablo Cody teams up with Reitman once again in one of the most vindictive and cruel films I've seen in a long time.  Charlize Theron stars as Mavis Gary, an alcoholic ghost writer for a series of popular young adult novels.  She is trying to finish the next novel in the dwindling series, but is having a hard time of it.  She wakes up from her hangover every morning, and guzzles Diet Coke, the beverage of choice for most 30 year old women.  She stares at her computer screen all day, plays Wii here and there, and then every night goes out to get sauced up once again and have sex with random strangers.
One day Mavis gets an email stating that her high school flame Buddy (Patrick Wilson), and his wife, have just had a baby.  Mavis is fresh on the heels of a divorce (gee I wonder why), and takes it upon herself to drive back to her hometown.  In her delusional state of mind she believes that she can win back the heart of Buddy and find a way to get her life back on track.
While she's back home she runs in to Matt (Patton Oswalt), a former classmate who was once beaten nearly to death by a group of jocks, leaving him crippled.  For some reason Mavis begins to grow a friendship with Matt, who she never talked to in high school.  Matt tries to deter her from her plan to break up Buddy's marriage and win him back all while being a punching bag for Mavis's insults.
Now I understand that Young Adult attempts to examine a woman who lives in the past and never grows up.  She writes teenage fiction that emulates how she feels now.  She believes that marriages can end like a high school relationship.  She's damaged and needs help.  However, she belittles everyone she comes across and could care less about doing it.  Everyone remembers her as the prom queen bitch, and she continues to play the part.  They hate her for good reason, because she's an awful person.
This film reminded me of another film I loathed this year, Bad Teacher, which was also about a woman so hateful and cruel I wish someone would have killed her in the film so I could leave the theater from the horror on screen in front of my eyes.  I get it.  Mavis can't grow up, and she hasn't changed, while the people of her hometown have.  They've gotten older, and fatter, and have had children.  They are such terrible people for doing that.
The biggest problem with Young Adult is that Mavis never changes, and doesn't have the capability of changing either.  She ends the film exactly as she began it.  A lonely, alcoholic, bitch of a woman.  There were chances in the script for her to find some sort of peace or resolution with her life, but writer Diablo Cody never takes the character there at all.  I've read some reviews giving the film praise, and I'm scratching my head wondering if other critics and I saw the same film.
Grade: D