Archive for the '25 Best Albums of the 2000's' Category
Top 50 of the 2000's – Complete List
Just a quick little list to round out my top 50 of the decade. Movies are coming up next!
#1 – …and You Will Know Us By the Trail of Dead – Worlds Apart
#2 – Bloc Party – A Weekend in the City
#3 – Our Lady Peace – Spiritual Machines
#4 – Muse – The Resistance
#5 – Twilight Singers – Powder Burns
#6 – Queens of the Stone Age – Rated R
#7 – Verbena – La Music Negra
#8 – My Morning Jacket – Z
#9 – Sparta – Threes
#10 – Josh Rouse – 1972
#11 – The National – Boxer
#12 – Matthew Good – Hospital Music
#13 – Death Cab For Cutie – Plans
#14 – Kings of Leon – Because of the Times
#15 – The Editors – The End Has A Start
#16 – The Church – After Everything Now This
#17 – Zwan – Mary Star of the Sea
#18 – Silverchair – Diorama
#19 – The Black Keys – Attack and Release
#20 – Local H – Here Comes the Zoo
#21 – Radiohead – In Rainbows
#22 – Coldplay – X&Y
#23 – Oasis – Standing on the Shoulder of Giants
#24 – Ours – Mercy
#25 – Snow Patrol – The Final Straw
#26 – Earlimart – Mentor Tormentor
#27 – Muse – Blackholes and Revelations
#28 – Queens of the Stone Age – Songs for the Deaf
#29 – The Decemberists – The Crane Wife
#30 – Placebo – Sleeping With Ghosts
#31 – Pearl Jam – Pearl Jam
#32 – PJ Harvey – Stories from the City, Stories from the Sea
#33 – Arcade Fire – Funeral
#34 – Nine Inch Nails – Year Zero
#35 – …And You Will Know Us By The Trail of Dead – The Century of Self
#36 – Cursive – Happy Hallow
#37 – Bloc Party – Silent Alarm
#38 – Film School – Hideout
#39 – Ratatat – Classics
#40 – Coheed and Cambria – No World for Tomorrow
#41 – Saves the Day – Sound the Alarm
#42 – Black Rebel Motorcycle Club – Baby 81
#43 – Tegan and Sara – So Jealous
#44 – Fleet Foxes – Fleet Foxes
#45 – Silversun Pickups – Carnavas
#46 – LCD Soundsystem – The Sound of Silver
#47 – Interpol – Antics
#48 -Burning Brides – Leave No Ashes
#49 – Twilight Singers – Blackberry Belle
#50 – Flaming Lips – Yoshimi Battles the Pink Robots
#1 – …and You Will Know Us By The Trail of Dead – Worlds Apart (released Jan 25th, 2005)
When I began thinking of this list, lots of albums went up or down, or dropped out of my top 25 all together, and some entered as well. I always new what my number one was going to be though. It was a no-brainer for me. The fourth album from this Texas based band starts out with a bang. The pounding piano chords that escalate into a screaming crescendo tip you off to the massive prog-alt-rock masterpiece that you are about to be graced with. 'Worlds Apart' is a concept album that takes you on an art-house journey in a post 9/11, media driven world. TOD is not afraid to delve into profound subject matter on songs such as the title track (dealing with the fallen Twin Towers), and 'The Best' an ode to a media hated Michael Jackson (Oh how the times they change). TOD's previous album 'Source Tags and Codes' (also barely missing my top 25) was an assault on the senses, but 'Worlds Apart' shows a band that has taken that rage and enthusiasm and matured it. Unlike most prog-rock infused albums that seem to go on and on forever, 'Worlds Apart' has great singular songs that can be listened to on their own ,as well as in the greater context of the album. I guess their trying to push it towards the mainstream for us. To me the essence of a great album is for it to be able to stand the test of time, and fore you to be able to hear something you never heard before in every listen. 'Worlds Apart' is this for me. TOD is unlike any band I have ever heard in my life, they are also the most energetic band I have ever seen live. Pure and simple they have created a unique art-house spectacle.
Standout Songs: The Rest Will Follow; Worlds Apart; Caterwaul; The Lost City of Refuge
#2 – Bloc Party – A Weekend in the City (released January 24th, 2007)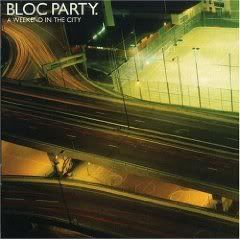 This follow up to Bloc Party's debut 'Silent Alarm' (which also was dangerously close to cracking my top 20) is a more focused polished effort. While they're debut was raucous, unforgiving brit-pop, 'A Weekend in the City' showed a maturity that it lacked. I couldn't stop playing this disc the first time I heard it. The sound of the tracks is massive incorporating driven guitar tone along with electronic synthesizers ala Muse meets Radiohead. There is such a positive energy to the songs that they give you an uplifting feeling, and you get this sense of spending the greatest weekend of your life in the city. The paint a perfect picture with their sound.. The band is spot on from beginning to end. Choice cut after choice cut this grade A rock utopia. It is also home to what I honestly think is the greatest modern love song of the past 10 years, 'Sunday'. Bloc Party is definitely a band to watch, constantly changing their styles and approach to their music.
Standout Songs: Sunday; I Still Remember; On; The Prayer…and pretty much every other song.
#3 – Our Lady Peace – Spiritual Machines (released December 12th, 2000)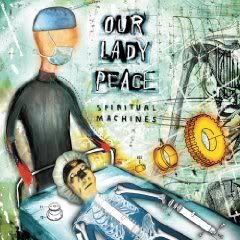 'Spiritual Machines' is a concept album based off of the book 'The Age of Spiritual Machines' by Ray Kurzweil. It deals with the evolution of man and machine, and the very real possibilities in the advances of technology in the near and also distant future. It is not science-fiction. OLP contacted the author, inventor and theorist about creating a concept album off of his book. Kurzweil liked the idea so much he offered up voice-over parts connecting the majority of the tracks. The album marks the high point of this fairly successful Canadian band who I was convinced at one point was going to become the next great rock band. OLP is best known for modern alt-rock hits such as 'Superman's Dead', but this fourth album pushed the envelope and boundaries of just creating singles and hits. The album flows effortless from track to track taming down their sound at parts with more acoustic based tracks such as 'Are You Sad', but still has that explosive energy that thrives as well. The songs are thought provoking asking us to think of our own mortality, and begging the question what else is out there? Where is the human race going? Will we evolve or become extinct by our own hands?
Standout Tracks: In Repair; Life; If You Believe; Right There Behind You