Archive for the 'Single Man; A' Category
A Single Man – viewed 12/29/2009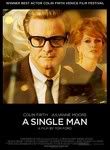 'A Single Man' stars Colin Firth in probably the best role of his career, as gay a English professor at a California school, who has recently lost his lover of 16 years in a tragic car crash. One thing this film is not about is sex or a gay movement during the early 60's in which the film takes place. The film is about a tremendous loss that anyone could experience and the devastation it can cause, sucking any reason to live right out of you.
We follow Firth's character George around during the course of a day, he wakes up, reads his newspaper, watches the children play next door, gets ready for work, looks into the mirror and says "Just get through the day". George is a man that we will get to know over the course of the day, and through interesting flashbacks we learn about his life with Jim, his deceased lover.
George finds it hard getting through the day after Jim's passing. He has lost his partner, which some characters believe isn't a real relationship because you can't have children with Jim. He is routinely propositioned by students, passers by, and by an ex Charley, played by Julianne Moore, who was once his lover as a youth. Charley still lusts for him, and they still have a strong relationship together as confidants, but that is it.
'A Simple Man' uses great use of sepia toned, and dulled down colored photography and implores this vibrant color technique through parts of the film as Firth's character encounters situations that breath small bits of life into his character. It is one of the things that really works for the film, and that I really enjoyed. It is a film about the little things and embracing these little things that make life so precious. It is also not without it's comedic moments. I basically described one of the most depressing films out there right now (don't worry that is saved for 'The Road') but Firth is able to turn on bits of charm at poignant parts of the film, and got a few chuckles from the audience as well. His character is not one that has abandoned all hope in life, but one that still embraces and is cognizant of the good things in life he has just lost his focus.
Tom Ford's debut is expertly shot, and his camera really helps entertain us with a story that could be described as mediocre at times. His use of closeups and even more so, playing with use of silence is really amazing. He lets his characters act within these small bits of silence that really become powerful moments in the film. The set design was also really well done, as we spend most of our time in George's apartment but it really had this great 60's throwback vibe about it.
While 'A Single Man' is well acted, and looks great it doesn't help to fill the gaps of what is basically a very weak story. We unravel the pieces of the plot to understand George, but in the end do we really care that much? It's like a beautifully wrapped present that once we open it and see whats inside…we're not really impressed with the outcome. Firth will no doubt be nominated for an Oscar and Tom Ford should be heralded as a director to watch after this debut. While I was entertained and intrigued I still feel that 'A Single Man' comes up just a bit short.
Grade: B-