Archive for the '10 Best Films of 2008' Category
The Top 10 Films of 2008
Yes I realize that it is mid April of 2009 and there have already been dozens of films released this year, but it takes some time to see some of the more obscure films released on DVD and time for Oscar season to finally be past us.  This being said there are still a number of films that I have not seen from last year.  I feel I've seen everything that should be seen at this point and time, and am finally able to create this list to the best of my knowledge.
Honorable Mention:  Iron Man, Shotgun Stories, The Fall, Man on Wire, Elegy, In Bruges, Speed Racer
10.  Gran Torino
Clint Eastwood is the friggin man. The guy is like 112 years old and is still able to go out there and make multiple movies every year…and they're fantastic, Gran Torino is no different.  Eastwood is fantastic in the lead as crotchety racist bastard who has seen his neighborhood taken over by ethnic groups who he labels not so favorably…to put it mildly. He has just lost his wife that he married during World War II, when two high school aged neighbors move in next door.  They soon begin to change his mind about the downslide of the neighborhood and make him realize that there is more to life than only what he has known and experienced.
9.  Slumdog Millionaire
Winner of this years best picture Oscar, Slumdog is easily the winner for best feel good movie of the year.  Without Danny Boyle's style though this film would have fallen flat and been just another boy chases girl movie.  Boyle is definitely deserving of the best director Oscar, making Slumdog a fast-paced, quick-witted and charming film.  It is really because of him that I feel this film made my top 10.  I've been a Boyle fan for a long time and he really gives Slumdog a rigidness that another director would not have been capable of.
8.  Synecdoche, New York
Charlie Kaufman's directorial debut is either going to be loved, or absolutely hated by you.  It completely changes the way a conventional film story is told, and lets you take away what you feel is the meaning of the film.  Trapped inside the mind of a middle-aged man we view his life as people he has loved, leave him and are replaced by almost complete duplicates.   However the remnants of those people remain, and linger.  As life continues, things begin to become more jumbled and it becomes harder to work out the clear lines of his imagination. Things never are quite what they seem, and true reality is really based on one's own perception.  This is definitely worth a shot, and if you can take away something interesting from it, I think you'll love it like I did, or you may just think it's a complete waste of time. You be the judge.
7.  Dear Zachary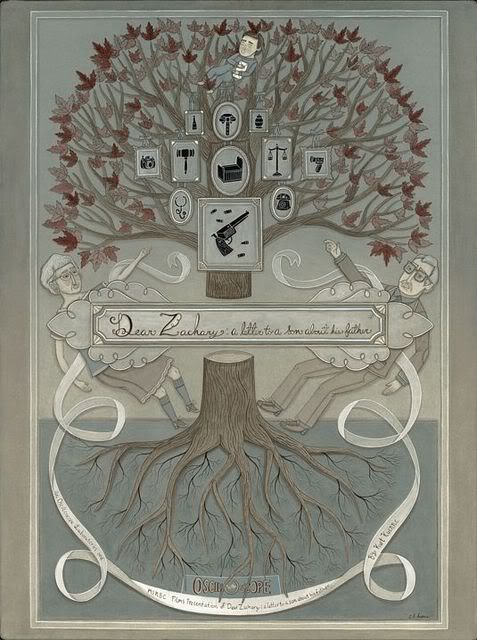 Riveting from beginning to end.  There are so many documentaries that are shot every year, and the majority of them follow the same format and are created the same way.  This film is a breath of fresh air with it's quick cuts and interesting story-telling style.  We can never really figure out who the main character is and are constantly on our toes. The film was began as a letter to the son of a deceased friend and takes on a life of its own as con-current events tragically change the entire nature of the film.  The tone of the film constantly changes and gives us new insight to the story that is unfolding.
6.  Let the Right One In
So much attention was placed this year on the movie Twilight which I thought was a complete piece of shit.  The things that happen in Twilight seem so completely absurd and ridiculous where-as in Let the Right One In, I honestly for some reason believed this could be happening to a poor vampire child.  A young boy finds a connection with his neighbor who he believes is the same age a him, but he soon realizes that this is not the case.  The boy is alienated from his parents, and other kids at school pick on him and tease him, but he finds a connection with the vampire girl that lives next door and she with him.  This is no vampire in love movie. There are some much deeper and darker themes going on here, and the film has its fair share of frights along the way as well.  There have been so many vampire, zombie, you name it films made over the  years that are never really very original. This is truly a breath of fresh air.
5.  Snow Angels
David Gordon Green's murder drama was the first great film I saw of last year and it left a lasting impression on me.  We follow a high school kid that works part time with the woman that used to babysit him as a child.  She had a daughter when she was about his age and is constantly dealing with her crazy ex.  We are stuck in a small town world with the rest of the characters and soon something happens to break that cozy unrest and begins to bring the things we leave behind closed doors out in the open.  This is a very well made film that has Green's personal style finally coming through successfully and I think truly shows him not as a promising director anymore, but a director that has finally come of age.
4.  Milk
Every few years Gus Van Sant decides to come back from making small indie films, and enter the Hollywood machine once again.  It seems every time he does this he strikes gold.  Archival footage is intertwined within this film, and we really get a sense of San Francisco in the late 70's. Penn Brolin and Franco are absolutely dynamic in their roles.  There are always a few biographical films that come out ever year and they are usually pretty formulaic and uninventive, but Milk is fresh and innovative.
3.  The Wrestler
Gritty, tough, and jarring.  The Wrestler is a tug on your heart strings film following the beaten and tattered life of a has-been wrestler.  Rourke is nothing short of spectacular, and he makes the film.  Aronofsky's claustrophobic directing style puts us right in the ring at every moment.  Beaten and broken Rourke carry's on and we are cheering for him the entire way.  It is a truly moving film that reminds me a lot of another top 10 film in previous years Rocky Balboa.
2.  The Curious Case of Benjamin Button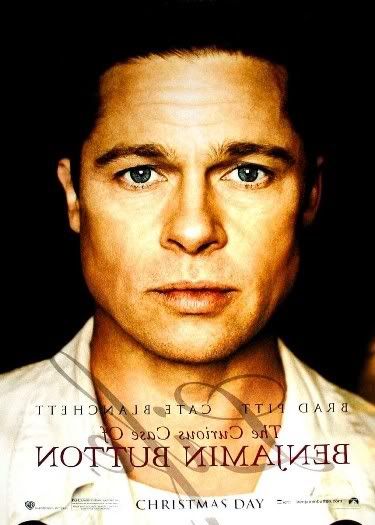 David Fincher is easily one of my favorite modern day directors and you cannot escape his visual style in Button.  Technically it is a ground-breaking film that had my wondering just how they did all of this.  I thought it was the best-looking film of last year. You are truly transported into another world, and for me that is what movie making should be about.  The acting of course is top-notch, and I really love films that take us from birth to death and give us an entire life story of a character. Button found an interesting, innovative way to tell that story.
1.  The Dark Knight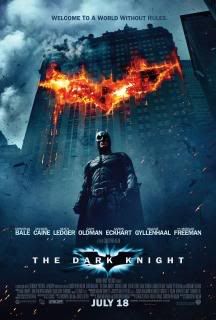 I wrestled back and forth with my top 3 picks this year, and at some point each of them held the top spot.  After long and hard consideration though, the one film that I thought was deserving of a perfect rating is The Dark Knight.  It is a mind-blowing film that is expertly directed, acted, and written.  Almost perfect and flawless in every way.  I'm actually shocked that more attention was not given to the film by the Academy.  Just because it's a comic book movie doesn't make it an artistic film?  Christopher Nolan is easily one of the most creative directors alive today, and not once lets us down.  This continues the complete re-imagining of a tired and stale movie franchise, and I can not wait for the next installment.