Archive for the 'Kids Are All Right; The' Category
The Kids Are All Right – viewed 7/10/10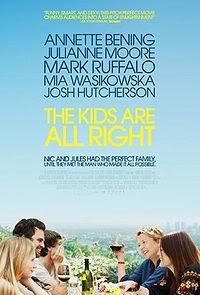 One of the best films of the year so far is "Please Give". A film that follows the intersecting lives and relationships of two New York families. "The Kids Are All Right" is a lot like "Please Give" in the presentation and juxtaposition of the pieces of the film, and it is also one of the best films of the year as well.
The film follows the lives of a married lesbian couple, Nic and Jules (played by Annette Bening and Julianne Moore) raising their two children Joni, and Laser (Mia Wasikowska of "Alice in Wonderland" fame, and Josh Hutcherson) They live a beautiful, happy, harmonious life. Nic is an uptight, successful Dr., while Jules is more of a stay at home mom type. She gave up her career in order to raise their children and has been struggling to find her place in the world again ever since. Their world turns upside down when the children decide to find out who their sperm donor father is. Enter Mark Ruffalo as Paul, a free spirited, self proclaimed slacker who owns a small restaurant and operates an organic garden.
The film then follows how these five people try and interact with each other. It is filled with tons of great awkward moments as the characters are attempting to feel each other out. They're not really sure how they are supposed to act or what they are supposed to say. It's like a beautiful train wreck, and it makes for some hilarious and also very heart-felt moments. One of the big reasons why the film works so well is that Nic and Jules have this tremendous powerful love for each other and the whole lesbian angle isn't really a focus for the film. This is a relationship between two people that love each other uncontrollably, it's not a "lesbian" relationship that is forced on the viewer, and I thought that it was well done that it comes off that way. Their children are comfortable with it, they are comfortable with it, so it's not really a point of contention….and Paul well he just thinks that's "far out".
Annette Bening proves time and again what a wonderful actress she is, and I would actually be shocked if she's not nominated for an Oscar for her performance here. The play between her and Julianne Moore is mesmerizing, and actually I wouldn't be shocked if both of them got nominated for an Oscar along with Mark Ruffalo who is fantastic as this unwitting slacker who is just trying to live in the moment.
The true charm of "The Kids Are All Right" is that it makes you fall in love and feel for every single one of the characters. They all do some really dumb, selfish things but they do them because they are human. At their core they are genuinely good people who have just been thrust into a situation that they are trying to deal with and attempting to control as best they can.
The fim opened in limited release yesterday and if you can catch it, do it. Otherwise you may have to wait for this little indie darling to come out on Blu-Ray.
Grade: A+