Archive for the 'Kings of Leon – Come Around Sundown' Category
Kings of Leon – Come Around Sundown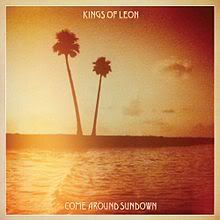 Over the past few years Kings of Leon have gone from an indie band, to pretty much one of the most listened to and talked about bands in North America.  2007's Because of the Times, was a huge artistic breakthrough for the southern rockers, but it was 2008's Only By the Night, and the subsequent single Sex On Fire, that catapulted them to fame and fortune.
That puts a lot of pressure on a band to come correct, and for the most part they do with their new release  Come Around Sun Down, their most chilled and relaxed album to date.  The Tennessee boys had said that this album was going to be more of a 'beach-themed' and influenced album, and you can definitely hear that in the songs, and the overall vibe of the album.
The album opens up with, The End, which sounds like it could have came right off of Because of the Times with it's chilled out bass riff and steady back-beat.  The album chugs along next with their first single Radioactive, and Pyro which I can only say is KOL's attempt at a ballad.  If you're looking for another, Sex on Fire, you're not going to find it anywhere on here.  The closest thing that comes to it is a head bopping, bouncing up and down speed riff song called, No Money, the stand out track on the album.
There are very few low points on the album, one of which I think is Beach Side, which sounds more like a bad My Morning Jacket B-side and Mary, their attempt at a 50's do-wop/surf song.  In all honesty I could see a lot of people really liking these attempts at a different direction, they just fell flat for me.  The album does also lose some steam near the end as they try and experiment just a little too much at times.
In the end Come Around Sun Down, is going to give you pretty much everything you could ask for from a KOL album, and it shows that the boys know how to push their own boundaries and realms just a bit, without completely alienating their fans. I don't see any fans hating the album, but I definitely can't see any one saying it's better than their last two efforts.  It's not as focused asBecause of the Times, and it doesn't really have any stand out tracks like Only By the Night, but it does have a nice balance somewhere in between, with a surf, sun, fun vibe.
Standout Tracks:  The End, Radioactive, Pyro, Pick-up Truck


Grade: B-