Archive for the 'Carnage' Category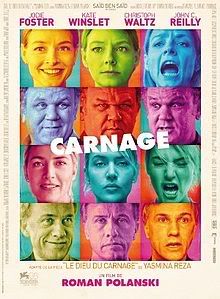 I didn't even know Roman Polanski was making a new film until I found out that this was already released.  The film begins with a young boy being beaten by another young boy on a playground during the credits.  It then cuts over to two sets of parents discussing the issue that previously occurred.
One set of parents includes Penelope (Jodi Foster), a budding novelist, and her husband Michael (John C. Reilly), who runs a warehouse.  Their son was the one we saw being beaten.  The other set of parents includes Nancy (Kate Winslet), an investment banker, and her husband Alan (Christoph Waltz), an attorney.  Their son was the one doing the beating.
The entire film takes place within Penelope and Michael's apartment.  The conversation between the two couples begins lightly and innocently enough, but we soon realize that these two sets of people live their lives in completely different ways.  As their time together progresses what they've really wanted to say all along about the incident comes out.
Penelope gets annoyed that Alan consistently answers his phone to talk to clients, creating an uncomfortable silence amongst the three others in the room.  Michael seems to be oblivious to anything as he just eats his pie and drinks his coffee.  Alan doesn't have time to deal with this situation, and Nancy must constantly apologize for her son, and her husband's behavior.
As the film progresses the intensity between the four begins to rev up, and things start to get a little sticky.  It seems our four protagonists may not like each other that much, but that's just me.
This is a character actor driven film, and it would never work unless the four actors were of the highest caliber.  Foster, Reilly, Winslet, and Waltz are the reason why this film works.  They're the reason why it's entertaining.
I think Roman Polanski got bored living in exile wherever the hell he is, woke up one day, called some of his friends, and attempted to make his best Woody Allen impersonation of a film.  It's been almost 10 years since Polanski made one of his finest films ever, The Pianist. Since then he came out with the extremely boring Oliver Twist, and the somewhat interesting Ghost Writer.  Carnage isn't a bad film, and it's kind of interesting at times.  Polanski at least had the wit to make it short because of the confines of the set.  Hopefully he made Carnage as an exercise in minimalist film-making because he's got something larger up his sleeve.  He's not getting any younger that's for sure.
Grade:  B-