Archive for the 'Sherlock Holmes: A Game of Shadows' Category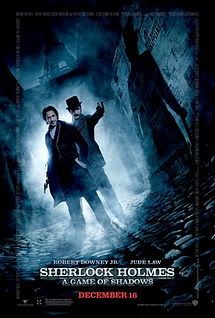 A Game of Shadows is the follow up to the wildly fun, and entertaining Sherlock Holmes. Robert Downey Jr. once again steps into the main roll as Sherlock Holmes, while Jude Law is back as Professor Watson.  We also now have Noomi Rapace (The Girl With the Dragon Tattoo), as Sim, a gypsy lady, and finally Jared Harris as evil villain Professor Moriarty.  Guy Ritchie also once again steps behind the lens to direct.
The film centers on Holmes going after Moriarty, after he learns that a series of assassinations throughout Europe are most likely linked to him.  Moriarty is a criminal mastermind that is up to Holmes level of wit, and is a suitable opponent in this game of chess that will follow between the two.  The film operates like a real game of chess, and even plays up to that notion as well at times, with Holmes planning out his moves ahead of time in a split second.  There is a lot of fun to be had with this method that is played out through stop action cuts, especially when Holmes uses it during some really interesting fight scenes.
Downey Jr. is one of those actors that just knows how to fall into character.  He's funny, charming, and brutal at times, and plays Sherlock Holmes dead on just as he did in the first film.  The play between Law and him is spot on again as well.  They quarrel like brothers and best friends, and at times like lovers as well.  This all just makes for a film that is vibrant and full of fun.
Director Guy Ritchie has a tendency to pay too much attention to the small details and not the bigger picture in a lot of his films (see Snatch which I still don't have a clue what it's about).  He's learned to hone his craft though, and Game of Shadows is filled with some truly mind-bending scenes that add to the overall story without losing focus.  One example is a scene later on in the film in which Holmes and his gang are being chased through a forest, being shot at mercilessly.  Trees explode into shreds all around them as the film is shot in stop action and slow-mo scenes.  Visually it's one of the coolest scenes I've ever seen in a film, but it never loses focus to the main plot.
The characters romp and frolic through lots of these great action scenes all to try and hunt down and catch Moriarty, and stop the assassinations taking place.  The only thing that I felt got lost a little bit in the shuffle is Noomi Rapace's character Sim.  I would have liked to see a lot more of her in the film.  She's really pushed into the background shuffle of things.
The holiday season is filled with tons of kids films, and high brow intellectual films attempting to get an Oscar nod.  That's why it's nice when a picture like this comes out.  A Game of Shadows is just good clean fun in the end.
Grade:  B+