Archive for the 'We Need to Talk About Kevin' Category
We Need to Talk About Kevin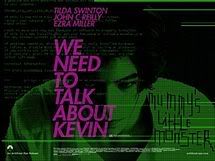 We Need to Talk About Kevin stars Tilda Swinton (Eva), as a mother trying to cope with the massacre at a high school caused by her son Kevin, and is based on the 2004 novel of the same name by Lionel Shriver.
The film doesn't have much dialogue to begin with.  It's loaded with images to soak in.  We live in Ana's world as she contemplates the past, from the time being pregnant with Kevin, to trying to learn how to be a mother with her husband Franklin (John C. Reilly).  The film cuts back and forth between these segments and the present.    She's haunted by these images in here present state.  Her life is now solitary and confined.  She's harassed by those she runs in to at the grocery store and on the streets, mostly the parents of the victims.  People slaughter her house with red paint that she excessively scrubs, but never manages to clean up.  She drowns her sorrows in red wine and prescription drugs, trying to forget what has happened, and what her son has put her through.
No matter how hard she seeks for answers, she can't seem to find an explanation for the horror that is her son Kevin.  Sometimes though there is no explanation.  There may have been signs of his evil behavior as a child, but could they explain his ultimate fate?
Another film from late last year, Beautiful Boy, attempted to examine the relationship between with two parents dealing with the exact same issue.  It wasn't examined half as well as it is here.   Director Lynne Ramsay is able to dissect the relationship between all of the family members while still focusing on Eva's tribulations, and struggles on her own. However, there is so much conflict going on during the movie without a lot of resolution.  It makes the film a chore to get through, especially within the last 30 minutes or so.
Tilda Swinton is brilliant as this tormented, lost mother, who is barely holding on to her own sanity.  She's completely alienated and lost.  Her performance is heart-breaking.  This is the type of performance that the Academy loves.  She drives the entire movie.  We see everything through her eyes.
This film is a true American horror story.  It's about losing complete control over your life, or perhaps never having control to begin with.  Eva may have never had a choice, or never had any control over her son.  Some people may not be able to be helped, and if Eva can learn that, then maybe she can go on living a normal life and move on.   It's extremely well done, but be warned.  It is very hard to watch and get through.
Grade:  B+