Archive for the 'Girl With the Dragon Tattoo, The – 2011' Category
The Girl With the Dragon Tattoo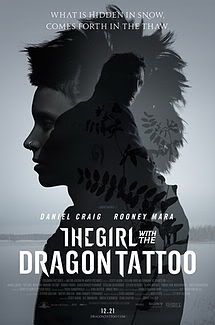 Next to Christopher Nolan I believe David Fincher is the most talented director making films today.  That's why I found it very strange when he announced his next project to be remaking this Swedish film that had just come out the year before, based on the Steig Larson novel of the same name.
Fincher once again teams with Trent Reznor of Nine Inch Nails, and Atticus Ross who built the magnificent score.  I will say this much.  The film has the coolest opening credit scene I've probably ever seen, next to Fincher's masterpiece Fight Club. I would not be shocked if both Reznor and Ross were collecting yet another Oscar for their work.
The Swedish version starred Noomi Rapace (Sherlock Holmes: A Game of Shadows) in the lead role of Lisbeth Salander.  Here The Social Network's Rooney Mara takes over the role.  I thought it would be almost impossible to match Rapace's work, but Mara is fantastic as the degenerate, twisted, psychotic Salander.  Major props go out to her.  Daniel Craig steps in to the role of Mikael Blomkvist, the co-owner and writer of Millenium magazine.  The film starts with Salander looking into Blomkvist's background for a prospective client after Blomkvist loses a libel case against business man Hans-Erik Wennerstrom.  Blomkvist is then hired by the prospective client, Henrik Vanger (Christopher Plummer) to write his autobiography, but most importantly solve the case of his missing granddaughter Harriet who disappeared 40 years prior.  On the brink of being bankrupt, and promised information that will hand him Wennerstrom's head on a plate, Blomkvist takes the case.
The film then splits off into two separate story arcs.  One follows Blomkvist as he stays on Vanger's estate and attempts to solve the disappearance learning all about the Vanger family, most of whom live on the estate as well.  The other arc follows Salander.  We learn that she is a troubled young woman who is a ward of the state.   Her guardian suffered a stroke, and she is forced in to the hands of another guardian who is a reprehensible man.  The two stories however will of course collide together when Blomkvist hires Salander to help him solve this case after hitting a brick wall.
The film works as a great mystery.  One of the issues I had though was with Craig as Blomkvist.  Michael Niqvist, who played Blomkvist in the Swedish version was kind of a nerdy journalist type.  A little bit dopey, but kind of lovable.  His connection with Salander made a lot of sense.  While Craig is a fine actor, and does a fine job with Blomkvist, I found him and Mara to be the opposite of what Rapace and Niqvist where.  They feel a little off at times when they are together.
Fincher's version isn't bad, but it also isn't anything much different from the Swedish version, which again makes me wonder why he took on the role of remaking it.  I'm splitting hairs here, because the film is still entertaining and well done as all hell, but I have such high regard for Fincher as a film-maker that I was left a little bit unsatisfied.
The film also ends very strangely and hurried.  Lots of loose ends are wrapped up, and it has what may be one of the worst head scratching endings of any film this year.  Fincher may be setting up the sequels for the films, The Girl Who Played With Fire, and The Girl Who Kicked the Hornets Nest, but I'm really hoping that he avoids remaking those as well.  I only say that because I wouldn't want to see him take away time that could be spent doing what he does best, making thought provoking original films that are more up to his caliber.
You'll be entertained, and it is a fine film overall, but I was expecting to see one of the best films of the year, and that may be the problem for me in the end.  My expectations may have been set to high.
Grade: B