Archive for the 'Fish Tank' Category
Fish Tank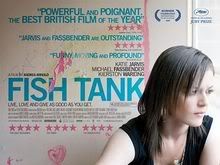 Fish Tank won the Jury Prize of the Cannes film festival last year.  It follows Mia, a young Brit girl who aspires to be a hip-hop dancer.  She is taken care of by her mother, a hard-drinking and smoking sailor of a mother, who cares more getting drunk and hanging out with her boyfriend, Connor. (Michael Fassbender, who is fast becoming one of my favorite actors).
Mia seems to exist on the fringes of the society, and like most young teenagers can't seem to find her place, even amongst local aspiring hip-hop dance kids.  Mia can't quite seem to connect with anyone, including her mother and her little sister who seems to hate her as well as a group of local boys that steal auto-parts and even horses in order to make a living..  Connor soon seems to be the only person that is interested in showing Mia any attention or respect as a decent human being, partially because of his connection with Mia's mother.
The film is about perception, and especially the mixed emotions of a young girl growing up at a difficult age, and in a difficult family.  As Mia becomes closer and closer to Connor her perception of her own reality begins to morph into something that perhaps it is not.  We don't know anything about Mia's father, so to say that she perhaps has daddy issues isn't too much of a stretch.  Connor encourages her to try out for a hip-hop dance crew and Mia soon begins to break out of her shell and find some self-worth, even if her mother still intends on belittling her every chance she gets.  She soon begins to flock to Connor because he may be the only decent human being she feels she can trust.  But what is he to her? A father figure, a crush, a friend, a monster, or nothing at all.
Mia constantly sits on the precipice of doing something meaningful in her life with her dancing, and losing complete control with her drinking and troublemaking.  She's just trying to figure it all out.
Fish Tank is able to straddle this fine line of what is and perhaps is not appropriate behavior between all of the characters involved, and raises questions about a non-traditional family dynamic.  Director Andrea Arnold uses a lot of jittery hand-held camera work that can make you feel uncomfortable at times, and perhaps even believe that you are perceiving something that may not be truly happening.  It reminded me a lot of Catherine Hardwicke's Thirteen, that came out in 2003, but was much more subtle its teen angst approach.  It's a great little indie film, and it's streaming on Netflix instant now.
Grade: B+