Archive for the 'Rabbit Hole' Category
Rabbit Hole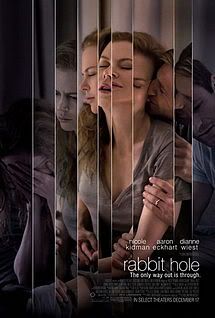 Rabbit Hole is based off the 2007 play of the same name by David Lindsay-Abaire.  It stars Nicole Kidman, in a very well deserved Oscar nominated performance, as Becca, a stay at home mother who recently lost her child 8 months prior.  Aaron Eckhart plays her husband who is always at work.  The film revolves around Kidman and Eckhart attempting to come to terms with the loss of their child well into the grieving process. Dianne Wiest plays Kidman's mother who is also coping with loss, but has been so for many years by this point.
Kidman and Eckhart try everything you are supposed to in order to come to terms with their sons death, group therapy, packing up their sons room and belongings, etc.  They are trying to move on, but certain things make it near impossible. Eckhart clings to a video of his son on his iPhone, and the images alone of the fatal day plague Kidman's character.  Kidman floats through the film like a zombie.  She is surrounded by memories of her dead son in her giant house that acts more like a prison.  She shy's away from her neighbors, her mother, and the rest of her family, including her black sheep sister who she soon realizes is pregnant as well.  Kidman and her mothers loss are constantly examined and weighed against each other in an attempt to examine if one loss is truly greater than another, or dealt with in a different manner.  The dynamic between Kidman and Wiest is one of the anchors of the film.  It is only when Kidman decides to leave the confines of her house that she runs in to someone that will help her finally come to terms with her tragic loss.
The film unravels like a ball of string along the way, and scene after scene we get closer to the core of the film and understand the motives behind the characters actions in hopes of a final resolution.  The film operates much like The Kids Are All Right, and Please Give in how it is shot and the dialogue is delivered,  two films that were in my top 10 for 2010.  The only problem is that while those films had serious subject matter they were able to undercut some of the heavy notes of the film with a lot of beautiful, and light hearted scenes.  Rabbit Hole fails miserably at this.  It attempts its hand at comedy at times in order to lighten the burden of its serious nature, but the small quips and attempts at this come off as foreign to the overall nature of the film, and at times show Kidman's character as almost completely cold hearted and incapable at loving again.  Now I understand this is the point at times, because she is emotionless and unfeeling, but the scenes I'm talking about push it past the boundary of the character.
Sandra Oh, also makes an appearance as a veteran group therapy member, and while Kidman soon refuses to buy into the idea of group therapy, Eckhart embraces it, and the help of Sandra along the way, perhaps a little too much.
Kidman is great, Wiest is great, and Eckhart has become one of my favorite actors in recent years with roles in films such as Thank You For Smoking and The Dark Knight.  The connections between the characters is strong, but at times the film really feels like a chore to get through.  I will say this.  The core belief of the film is that you MUST stick together in order to overcome the pitfalls that life brings you.  Now don't quote me on this, but I remember reading somewhere that over 60% of parents that deal with the loss of a child end up splitting up because they can't deal with the grief.  Rabbit Hole is an examination of that 40%, and that should be applauded.
Grade: B-