Archive for the '127 Hours' Category
127 Hours – viewed 12/24/10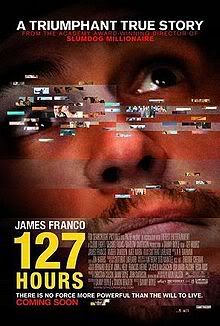 127 Hours is the true life story of canyoner and mountain climber Aron Rolston, who was trapped in a Utah canyon with his arm wedged between a boulder and a canyon wall.  It is also the newest film from Director Danny Boyle who's last film, Slumdog Millionaire, won him a best director and picture Oscar.
James Franco plays Rolston, (he deserves to be nominated for a best actor Oscar) and from the beginning of the film we just fall in love with his character.  He is an easy going, free-wheeling, full of life guy who enjoys mountain climbing and the outdoors when he's able to get away on the weekend from his job.  He's the guy everyone loves. Armed with his video camera, which plays a pivotal role in the film, he heads on to Robbers Roost soon running in to two female mountain climbers that are lost.  He becomes their unofficial tour guide and shows them the in's and out's of the canyon, teaching them a few places that aren't on the tour guide along the way.  After he soon parts company with them, he becomes wedged between a rock and a hard place, and this is when the film really starts.
You would think that there isn't much source material to fill an entire film with, but you would be entirely wrong in that assumption…believe me, even I was skeptical.  Danny Boyle for me, is the only director that could have made this film.  His style of filmmaking made this film so intense, entertaining, suspensful, light-hearted, and moving all at the same time.  I've been a huge fan of his since he burst on the scene with 1994's Shallow Grave, a must see if you haven't already.
Boyle uses lots of hand held shots, with closeups, and quick clips to keep the film moving along and fresh. Half of the time you thing you're living with Rolston as he goes through his layers of emotions, the other half the time you think you're in some sort of psychedelic music video.
When Rolston first becomes trapped he pulls everything out of his pack, all of his tools, instruments and rations, and systemically assesses the situation before him.  He must figure a way out of this situation.  The situation however, soon spirals out of his control as he hits road block after road block.  He soon runs low on water and begins hallucinating about his past, and begins seeing visions of a wife he may never have, and a child he will never see grow up.  He also begins hallucinating about various things, one of which being a montage of late 90's commercials involving Gatorade, Coke and other refreshing beverages…if only he could have one.
Rolston never gives up hope, and at times turns to his video camera for entertainment and to keep his spirit alive.  The camera is his life line.  It is a recording to those he's met, and becomes his document for the future, and we get sucked into the film as we are fighting alongside him.
Boyle has created one of the most riveting films about the spirit of the human condition ever.  I found myself intrigued at the beginning of the film, and by the end downright moved to tears.  He knows how to build suspense as a director, and knows how to bring you in to his world as a viewer.  This is one of his finest films, and one of the best films of the year.
Grade: A+