Archive for the 'Separation; A' Category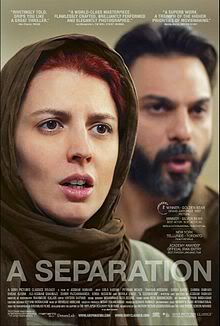 A Separation
is an Iranian film that follows the lives of a middle class Iranian family.  The wife Simin, wants a divorce from her husband Nader, and wants a better life for her and her teenage daughter Termeh.  However, a judge will not grant the divorce so Simin decides to move out of their apartment.  Their apartment is also home to Nader's father who has dementia.  Since Simin is moving out, Nader needs to find someone to take care of his father during the day, so he hires Razieh to help.
Razieh is a very religious woman and is not sure she can take care of the grandfather after he wets himself, and she must clean up after him.  Seeing another man naked, no matter in what capacity, is against her beliefs.  She was never told this was going to be part of the job description.  Razieh suggest that her husband Houjat could step in for her.  Houjat however is in a lot of debt, and ends up getting thrown in jail for an evening, forcing Razieh to keep the position.
All is well and good until one day Nader comes home to find his father tied to his bed, and barely breathing.  Razieh is nowhere to be found.  When she enters the home later Nader confronts her asking her how she could do such a thing.   She just states that she had to go somewhere.  Nader forces her out of the house pushing her into the hallway.  The next thing he knows he's being arrested for the incident.  What progresses is an informal hearing in front of a judge as everyone explains their positions in the matter.
A Separation is an experiment in communication really.  It's about information that is withheld, or spun in the way that favors one party over another.  It is meticulous in attempting to recreate and understand the event that occurred when Nader pushed Razieh.  Now this seems trite to begin with, but it's actually fascinating how the parties state their cases, because a lot more is on the line then we first understand.  While this is going on Simin and Nader must still deal with the problems that have caused their separation, and their daughter Termeh is pushed and pulled in every direction between them as she tries to make sense of it all.
The film is one of the best reviewed films of the year, and at first I wasn't really sure why.  I was actually bored with the film, but I don't think I really understood the bigger picture until I got deeper and deeper into the situation and the facts, and the little white lies that are told, and the important information that is withheld.  As a viewer I was really forced to try and understand all of the characters sides, within the class system that they live in.
I've seen a lot of foreign films in my day, and they operate a lot differently than English language cinema.  A lot of times they are a chore to get through, and sometimes harder to grasp or understand based on a unique story-telling perspective.  Give this one a shot though.  It's extremely focused and well directed.
Grade:  A-