Archive for the 'Better Life; A' Category
A Better Life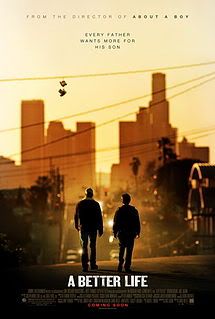 A better life is the story of a gardener, Carlos, and his son Luis.  They live in L.A., and every day Carlos gets up to work with his friend Basco, who owns a truck and the tools he needs to be a landscaper.  Basco however, wants to move back to Mexico to be with his family, and offers to sell the truck and tools to Carlos.  Carlos happily agrees, and believes that this is the chance he has been waiting for to make a better life for he and his son.
Carlos does everything for his son.  They share a one bedroom apartment, and Carlos sleeps on the couch so his son can have the bedroom.  He wants nothing but the best for Luis, and wants him to have whatever he needs so that one day he can live the life that he never had.  The only problem is that Luis is a trouble maker and slacker, that could care less about what his father does for him.  He's more interested in skipping school and hanging out with his girlfriend Ruthie.  Ruthie's brother just happens to be the head of a hardcore group of gang-bangers who want Luis, and his best friend Facundo to become a part of their gang.  Carlos may be trying to offer his son a better life through the straight and narrow, but the temptation of easy money may trump that for Luis.
Carlos and Luis live in two separate worlds.  One world explores the culture of Mexican Americans.  The other is a world in which they kill each other on the streets.  It's only when a small tragedy strikes that Luis learns of his heritage and culture, and begins to bond with his father, understanding the sacrifices he made for him.
The film works from a lot of different angles.  It's a coming of age story, but also a film that tries to understand the culture and frustrating lives of illegals in this country.  What is really interesting is that it also works as a suspense film underneath it all.  This is an interesting film for Chris Weitz to make.  His former efforts included American Pie, About a Boy, and of all things, Twilight: New Moon.  I can only hope he had the idea of securing the funds for this film on his mind while making Twilight.


Demian Bichir, who played Fidel Castro in Steven Soderbergh's Che, is riveting in the main role as Carlos.  You truly feel for him, and what he has to go through for his son.  He's the most sympathetic character I've seen on the screen this year.  Oscar will come calling.


Grade:  A